Recently a female friend asked us:
"Why do guys always approach her when she's not looking so hot, but when she's all dolled up and on point, none of the fine guys step to her, only the C-team?"
Here's what The Genius had to say about it:
With all due respect to my fellow colleague The Gentleman, I think maybe he got the purpose of this article confused himself, or maybe he chose to comment on just the makeup, which is ONE aspect of the larger issue.; however, his points can also be applicable to the bigger issue, which is "Accuracy".
Makeup aside, women get into dress-up battles with themselves and their friends when they go out. It's all fun and games, and I personally don't really see anything wrong with it. The problem, or should I say confusion, comes in when their attire does not match their surroundings, or how I perceive my surroundings.
I don't consider myself a Casanova by any means. But I am a firm believer in social engineering and the chief advocate against the Law of Large Numbers (as applied to dating).  This means that I'm all about accuracy when I approach women. Not all men are like this, but usually the ones you want to talk to are. You see, the C-Team that you speak of is only interested in your superficial appearance, that is after all the main reason he approached you; he has nothing else to go off of. His M.O. is "Hey, might as well try, right? Worst that can happen is she'll say 'No'. I'll live". Which actually, is true. The problem is that if you DO say no, where does that put me? Am I to just hang it up that night, or am I to move onto the next woman? For these guys, the latter is the preferred choice of action. But after 2 or 3 rejections, he becomes "That Dude" at the club who is trying to hit on everyone. And no girl likes "That Dude". You certainly don't.
When "That Dude" approaches you, you all are instantly turned off by him and say to yourself, and sometimes to him directly, "Why are you hollerin' at me, I'm just another number to you." Now let's assume that you and "That Dude" would have actually hit it off and started a wonderful relationship together had he just approached you first. His chances of achieving success with women he actually stands a chance with significantly decreases with each approach and rejection he gets. And ladies, you are not stupid. You can smell this strategy on a guy from a mile away. If he doesn't make you feel special, then he's not. Drop him.
Now let me ask you this: Why would I put myself in that position? I don't go headhunting for "chicks" when I go out. If I decide to talk to a woman while out in a public setting, I understand that by doing so, I am crossing out several other women from contention. It would makes sense to me to find the ones that I think mesh better with my character and vice-versa rather than just one that "looks good". I'm a sniper, not Infantry. It's all about accuracy. One shot, one kill.

How can I tell which ones mesh the best with me and who I have a better chance with? Simple, I'm a confident and intelligent person, so I have my best chances with a woman who has the same qualities. Typically, women who I deem as overdressed for the occasion have something to compensate for. Not all of you, but enough. I've went to a dive bar to watch a fight and saw a group of women dressed in those bandage dresses (I don't know what they're called but they are tight) and expensive looking shoes. Sure they looked good, and they were approached by every bar slob in the place. To me, that looks like these girls want to step out and get noticed. But at a Dive Bar? Really? Am I going to include myself in the folds of men who flock as soon as they see eyeliner and boobies. Nah homie. I'm straight.
To me, overdressing = confidence issues or attention deficiency disorder.
"If my tit is hanging out my dress, the night is gonna be interesting!"
I know you women have fun turning guys down. We know that. Hell, we have fun turning women down. Ok, tha's a lie. We don't turn them down, we keep them around anyway, but like you, we do it because we just want our ego stroked.
I know some of you women are of course saying, "I don't do that. I dress for me, myself, and I."
Yeh, I'm sure you do. But I personally think that this type of woman represents about 30% of you all. So for the sake of that 30%, I'm hollering at none of ya'll. Blame them, not me.
Thirty percent! That may seem too low to be casting off the vast majority of women, but when you talk about accuracy, it makes sense. Look at the women who dress sophisticated, appropriate, and leave enough to the imagination to pique my interest. Ladies, our definitions of those words are different than yours. I want the girl who dresses comfortably over provocatively, reserved over liberally, confident over attention-starved. Out of all the women that dress like that, I have a better rate of success with these ladies than the flashy, makeup intensive, fashion overloaded ones. Out of both groups, the latter yields significantly less false positives than the former with a much higher conversion ratio. I'm gonna do what benefits me, so will the rest of the A-team.
We scan you before you even see us and the logic that drives the male brain will always do the math. Some are just better than others at it. The C-team does the Law of Large Numbers thing while the A-team provides a hypothesis and formulates a proof. So if you feel that the girls that dress up and have no substance don't include you: No offense, I'm just tryina keep my stats up. I've done the math, and it's sound. Trust me, I'm a genius.
Discuss below and be sure to check out what my colleagues think. Let them know how right I am.
The Make-up Myth: The Introduction
We haven't done one of these in a while but, when someone so badass comes around, we just gotta point it out. This edition of Afrothought's Badass of the Moment is Isaiah Mustafa, also known as "The Old Spice Man" or "The Man Your Man Could Smell Like". The first time I saw the Old Spice commercials, I wasn't really paying attention (I was in the middle of cooking), but from what I saw I thought it was hilarious. It wasn't until the second time I watched the commercial in its entirety that I knew I had seen something special. It reminded me of those old Izuzu ads in the late 80s/early 90s. Still, something about the commercial clicked with me and that same thing made me burst into laughter and tears. Since the commercials have been airing, the Old Spice channel on Youtube has been seen over sixteen million times and sales have skyrocketed over one hundred and seventeen percent. That, my friends, is smart advertising.
Isaiah Mustafa is a man's man. He played as a wide receiver in the NFL for the Oilers, Raiders, Browns, and Seahawks. Dude even played Moses in the 2005 remake of The Last Supper. And now with all the publicity and manly accolades, Hollywood is starting to give a brother some opportunities. Since the commercials, he's been seen on Ellen, Oprah, signed a talent agreement with NBC, and landed two roles in the upcoming Tyler Perry Movie as well as the Jennifer Aniston/Jason Batemen movie, Horrible Bosses..off of just a few 30 second TV ads. Now that's impressive. The only thing its seems Mustafa hasn't been considered for is playing a superhero in an upcoming Marvel movie, although he has expressed interest in playing Luke Cage in the upcoming Marvel movie. All that from one commercial. Now that's badass. Check out the video below and listen to him explain his latest "one-take" commercial and breakdown of this badassery.
It's been a while since I've shared one of my theories with you all, so  I'm more than happy to share the newest installment of the Genius Theories. As with every Genius Theory, I gotta give you the background first.
The Background
This story starts off with a friend whom we will call Lyle, because it sounds funny. During a water break at the gym, my friend Lyle began to retell his Valentine's Day disaster story from this passed month. Two months back, at a friend's party, Lyle met a very very attractive Pretty Lady. Lyle and Pretty Lady struck up a conversation and seemed to hit it off, eventually exchanging phone numbers. Thus began a long string of hour-and-a-half long phone conversations.
Read more
…continued from: The Platonic Road Fork – Part I
Before I started explaining the situation to my friend, I paused. Just to make sure I wasn't jumping the gun, I asked a few questions first because Lyle's story sounded like there was much that he conveniently left out. I asked him a few questions and these are some of the things I uncovered:
Since the very beginning of the relationship, Lyle speaks with her a few times a day, just about everyday.
Lyle has thrice taken Pretty Lady out on extravagant dinners and outings.
Every time Lyle makes a flirtatious comment to Pretty Lady, she tells him to stop or that it makes her uncomfortable.
Lyle buys Pretty Lady "Just Because" presents for no reason such as appliances, home decor, etc.
Lyle gets jealous when he's around guys that she is dating or brings them up in conversation.
Pretty Lady could care less who Lyle dates and sometimes encourages him in his relationships.
The truth is that Lyle has no chance. Like none. But what is worse is that he's doing everything wrong.
Read more
NEW YORK – Few if any of the deals retailers have offered online during the recession have been as good as Best Buy Inc.'s sale price of $9.99 on a 52-inch TV Wednesday. But it quickly turned out the offer was too good to be true. Read more
Anderson "The Spider" Silva
Yep, I had to do it. If this dude's not bad, then you just don't even know the meaning of the word. This weekend, Anderson Silva fought top Light Heavyweight Contender Forrest Griffin in the UFC. Now say what you want about Forrest, but the guy can fight. He may not be Top 10 (in my opinion he's not), he may be drastically overrated, but he's above the halfway point of the division. For those who don't understand or are aware of what exactly happened Saturday Night, let me set it up.
Anderson Silva is currently the reigning UFC Middleweight Champion (185 lbs). He's basically demolished everyone in his path for the last several years and has only be truly defeated three times before. His highlight reel is one of the most jaw dropping in MMA. What makes this more fascinating is that the people he humiliates are top of the line contenders and is somehow able to make them look like they don't belong in the cage/ring with him. Furthermore, the guy has a career striking accuracy is much higher than anyone's in the sport.
Over the course of his career, Silva's average striking accuracy per-fight is an even 70%. To give some context, the average fighter's accuracy is around 35%, and Silva's opponents' accuracy in their fights against him is 24%. That means Silva is twice as accurate as your standard fighter and nearly three times as accurate as the people fighting against him. His footwork and technique are such that not only does he connect, he also makes his opponents miss. – Yahoo! Sports
You know you're a bad moFo when you knock someone out while you're backpedaling with your WEAK hand. You know you're a badass when you can stand 1 foot from your opponent with your hands at your side and not only not get touched, but somehow manage to dodge everything that is thrown at you. Seriously, I'm not even gonna talk too much about this cuz words don't do it. Just watch the video.
Houston rapper who was part of the group Geto Boys has been charged in a wire fraud scheme involving iPhones, according to federal officials. William James Dennis — better known as Willie D — was arrested Wednesday at Bush Intercontinental Airport where he was returning from an overseas trip.
Silva is not Fedor. Nor is Fedor Silva. People needa stop comparing the two. Silva's said 1000x he's not #1 and Dana keeps shoving it down everyone's throats and bashing Fedor because:
1) He's not fighting the best of the best
2) Fedor won't massage Dana's balls and join the UFC
as for #1, Silva is not facing the best guys either. I think we both agree that Leites was a HORRIBLE challenger, we knew that going in. And I think that Leites greatly exceeded everyone's expectations with his amazingly garbage ass performance. Dude wasn't even at the post-fight press conference. Cote i've NEVER liked either.
No, Silva didn't do wat everyone wanted him to do (Silva…Smash). But as long as the ENTIRE MMA community wants to compare him w/ Fedor, when was the last time you've seen a challenger for Fedor's title just fall on the ground 1000x or just run away from him the ENTIRE fight. Leites only landed 17 strikes, less than 25% of his total shots whereas Silva landed 104, 70% of his shots.
If you want the fight to goto the ground, go for the takedown or jump guard. No fighter in MMA will come inside a persons guard unless he was taken down (ur pulled into guard) or his opponent got knocked down. Tha's how MMA WORKS! If Fedor was fighting Leites and Thales just sat down in the ring. Fedor would look at him like "WTF?" too. Tha's the most redickulous mess ever.
Even when Silva was in Thales' guard, he got out EASY more than once. When Silva was on his back, he was controlling this dude. What does this say? Silva is a STRIKER, w/ some damn good Jiu-Jitsu, but at the end of the day, I think anyone would be frustrated if ur stuck in an organization w/ a president who's using u as a marketing tool when you're CONSTANTLY saying U ARE NOT the #1 P4P.


I just want him to Fight GSP (if he beats Alves), kick HIS ass, and move up to 205. Cuz the 205ers aren't gonna pull that same kinda crap Cote and Leites did. Most 205ers are pretty scary. 185 has went to the s*** tank like the Heavyweight division did a few yrs back. Thank goodness, that 's changing now (hopefully).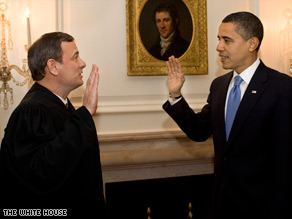 WASHINGTON (CNN) — President Obama retook his oath of office Wednesday after Chief Justice John Roberts flubbed while delivering it at Tuesday's inauguration. The second oath — also administered by Roberts — took place at 7:35 p.m. Wednesday in the White House's Map Room. Read more
Brock Lesnar vs. Randy Couture will be one of the biggest fights in mixed martial arts history. It will take place on Saturday, November 15th, in MGM Grand Garden Arena in Las Vegas, Nevada for UFC 91. Read more